Apple announced that the new Apple Park in Cupertino is about to reach completion.
---
Centrepiece of the Foster and Partners' massive 175-acre campus is the ring-shaped headquarter building, also dubbed Apple's Spaceship, with its 260,000sqm designed to house over 12,000 people starting from April 2017.
The building will be powered by 100 percent renewable energy thanks to a 17 megawatts world's largest rooftop solar installation. According to the architect, indoor thermal comfort will be provided entirely via natural ventilation means for nine months of the year. No heating or air-conditioning will be required during the nat-vent mode.
The new Apple Headquarter building in Cupertino - details of the curved facade fitted with large overhangs
"Steve Jobs' vision for Apple stretched far beyond his time with us. He intended Apple Park to be the home of innovation for generations to come" said Apple's CEO Tim Cook.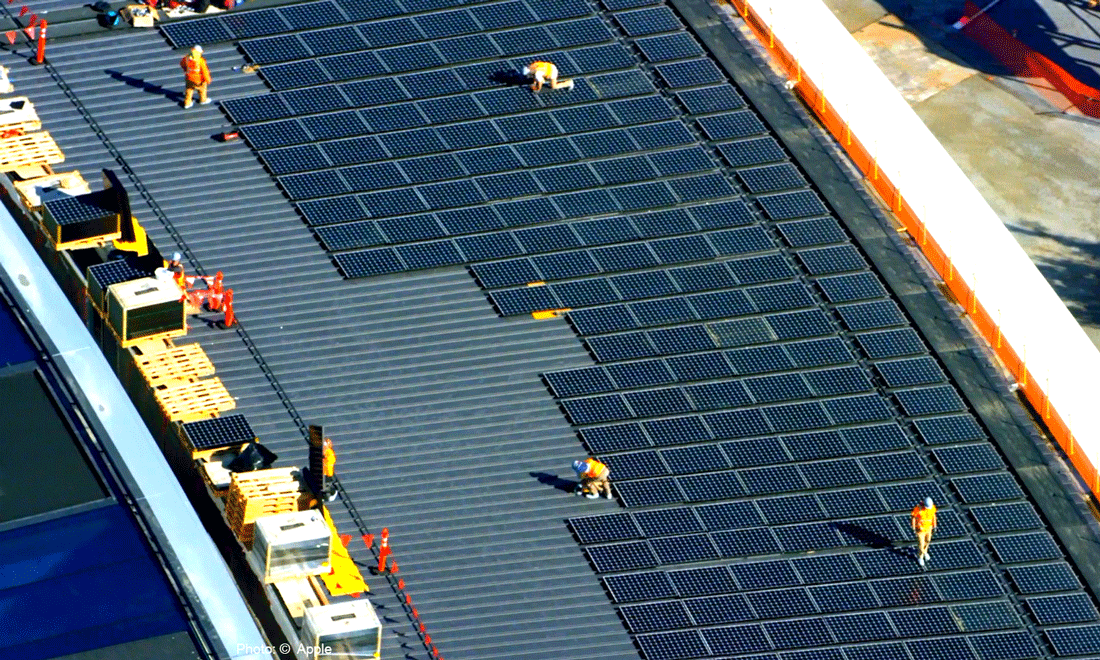 The massive solar energy panel installation fitted on the roof of the HQ building
The development replaces 464,000sqm of asphalt and concrete with green areas and over 9,000 native trees.
The Apple Campus and its work environments are designed to inspire its users. In addition to the HQ building, the development comprises a 9,300sqm fitness centre for the company's employees, large research and development facilities, a visitors' centre with an Apple Store and cafe open to the public.
The entrance of the Steve Jobs Theater with the metallic carbon-fiber roof
At the top of the hill, overlooking meadows and the main building is the Steve Jobs Theater, a 1,000-seat auditorium with a 6m-tall glass entrance pavilion, 50m in diameter. An Italian touch was added to the auditorium with a custom-made seating system designed in collaboration with Poltrona Frau Contract Division, the high-end Italian brand internationally recognised for its excellence in product design and craftsmanship.
Related Stories
Images & Video: Courtesy of Apple